Meet us at Oracle Cloud World 2023
Meet SRI team at Oracle Cloud World 2023. The event is in Las Vegas, September 18-21. Join us at the event to connect with our leaders, experts, and clients.  
As an Oracle partner and vendor, we'll present the latest Oracle-Driven Innovations curated by SRI and Lean Tech as shared below.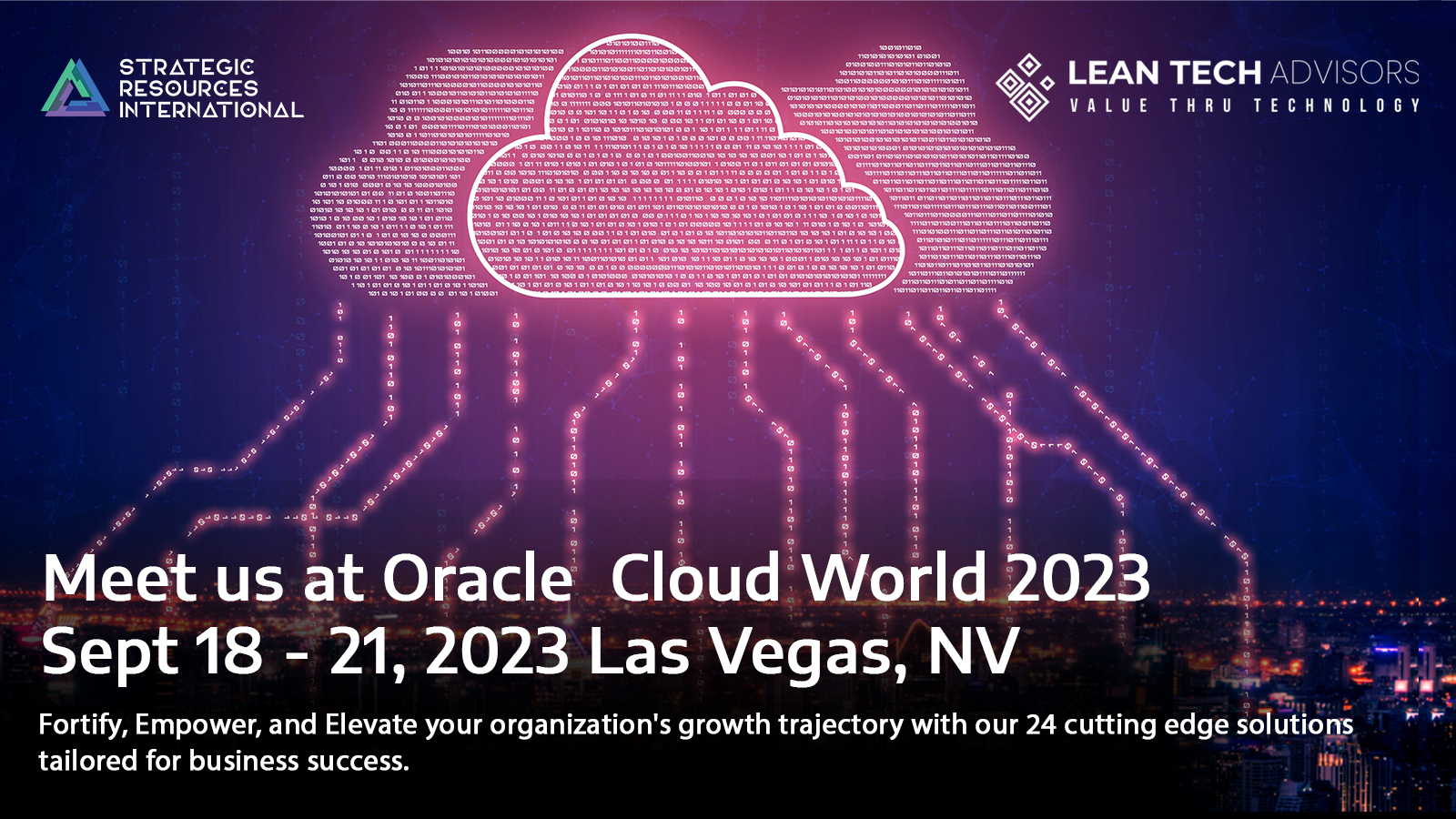 Empowering the Future: 24 Unique Oracle-Driven Innovations for Holistic Business Transformation. 
In today's fast-paced business landscape, enterprises must foster resilience. Staying ahead demands a swift shift to cloud-based business models for accelerated results.  
Leveraging 30 years of Oracle expertise, SRI proudly presents its unique 24-crafted solutions co-created with LeanTech, an initiative led by Oracle's ex-leaders and renowned CIO award recipients. Our solutions are crafted to align with your business operating model that operates 24 hours a day, and they embody a success theme centered around Fortify, Empower, and Elevate. 
Revolutionizing construction with next-gen tech and innovative operational insights
In today's dynamic business landscape, keeping up with the fast pace of technological change can be a challenge. Managed IT Solutions are designed to address this challenge, ensuring organizations can stay competitive, secure, and efficient.
Managed services optimize value from external stakeholders, enriching experiences for internal teams and customers. This strategy hinges on four pillars: identifying optimization areas, setting clear metrics, evaluating real-world impacts, and consistent monitoring. This approach strengthens the mutual bond between businesses, partners, and clients, fostering shared growth.
Our Managed IT Solutions give businesses an edge through 24/7 monitoring, proactive problem-solving, and seamless operations. We offer scalable and secure cloud solutions, ensure data safety with backups and quick recoveries, and maintain software and hardware for peak performance. Our expert consultations align IT strategies with business objectives, empowering you to confidently face the future.
Why choose SRI + Leantech Solutions for the year 2024?
Oracle innovation meets industry-specific needs across eight core sectors.
Enhancing user experience and stakeholder value through ERP, CRM, and more.
Managing businesses where technology, consumers, and vendors intersect globally.
Harnessing AI, IoT, and more for innovative, uncompromised business success.
Modernize apps affordably with Oracle Apex's no-code solutions.
Transform with database modernization to an analytical-driven business.
Leverage key metrics to move to the Oracle Cloud effectively.
Boost security with our extensive DevSecOps and cybersecurity services.
Attending OCW 2023? Meet SRI team there!